Sewing Success: Jessica's Story
Jessica, 15 years old, is a third-year high school student in El Alto, Bolivia. In 2019, Jessica participated in Save the Children´s "Adolescents as Protagonists of Development" project, financed by Bulgari company.
Jessica was encouraged to participate in the project because her family had financial difficulties. "We needed income, and the project seemed like a great opportunity to learn," she explains. "I did not know how to work, but I learned to be an entrepreneur."
Her business consists of making quilts. "I enjoy learning how to make them. I found it easy to sew, but the difficult thing is to get the clients," says Jessica. Although it is difficult to find buyers, the project has been well accepted by the public, especially from locals and businesses linked to the area.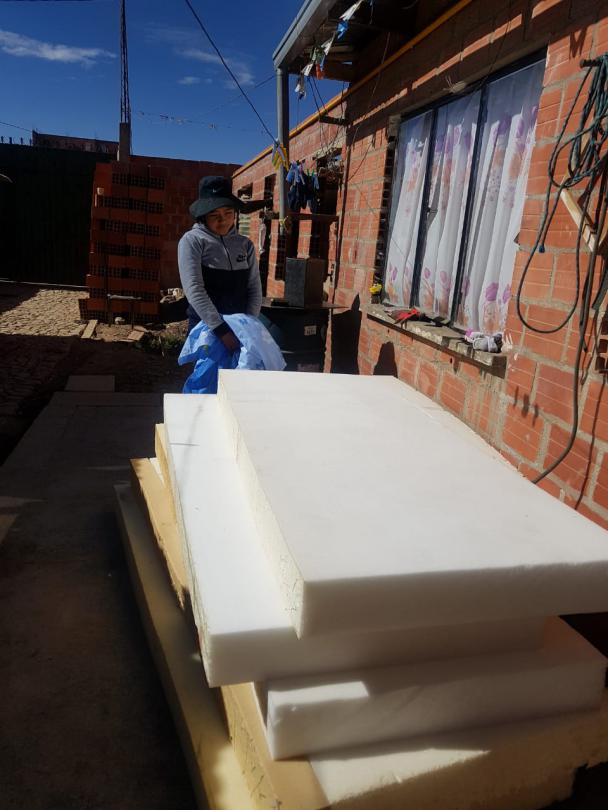 Jessica has the support of her family, especially her mother Filomena, who helps her make the quilts: "Before, I didn't have a way to generate income," explains Filomena. I couldn't work. Now I can work. thanks to Save the Children buying us a machine".
The business began to improve this year, but due to the pandemic, sales fell and their income stopped. "The quarantine affected me because the stores to which I sold no longer opened. I could not go out and there were no sales," Jessica explains. But in the new context, a new opportunity arose for Jessica and her family: producing mattresses for the COVID-19 isolation center of the Municipal Government of La Paz. Although the pandemic diminished the sale of quilts, Jessica and her family's business was able to diversify their products by manufacturing mattresses for the isolation center with support from Save the Children.
The project maintains close contact with the enterprises, looking for potential clients, providing them with what is necessary so that they can remain stable. Jessica explains: "Save the Children has helped me a lot with the project, because they guided us from scratch. We have their constant support. Even when I finished the training, they bought us threads, the sewing machine, the fabrics and all the materials. Now we can sell and make new products".
Jessica's future plans are to have more capital for her business, to have a physical store to offer the products, and to be professional and to be able to travel. Filomena's plans are aimed at providing better living conditions for her children.
The business has enabled Jessica and her family to generate income and work together. "It helped me improve my income and that helps in my life," says Jessica. "Before I had no experience, and now I have formed my own business. I know how to get clients and do something that I enjoy".
Without a doubt, there was a positive change in Jessica's life after being part of the project. "I recommend being part of the project. I learned a lot and I want everyone to have that experience," she reflects. I thank Save the Children for helping me to have economic stability." Her mother Filomena adds: "I am very grateful to Save the Children. They have helped me from the beginning. We had nothing, and now with their support we have work."
Even with the pandemic, Jessica was able to adapt her business and continue to generate income. The empowerment she has shown and her desire to improve are proof that the program has strengthened the resilience of adolescents.